Description
SIM POWER VIA membranes are bitumen water insulation covers with double polyester felt carriers and elastomeric series (with S.B.S) which are specially developed for the buildings where very high tensions occur.
Sim Power Via can provide high temperature resistance although it is Elastomeric series. It displays a high performance against high tensions with two separate carriers included in its structure.
Application Areas
---
It offers solutions for the insulation works of such buildings as bridges, viaducts, multi-storey car pars and similar structures carrying movable loads.
Sim Power Via which is a bitumen cover containing SBS gets into new asphalt road applications as Highway Authority started to use modified polymer bitumen mixture (PMB) together with SBS type contributions for asphalt road coatings.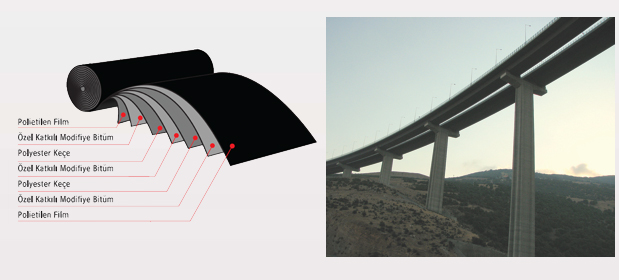 | Specifications | Unit | Power VIA SP 4000 |
| --- | --- | --- |
| Outfit Type | | Polyester + Polyester |
| Thickness | mm | 4 |
| Weight | Kg/m2 | 4,8 |
| Width | m | 1 |
| Length | m | 10 |
| Temperature Resistance (Minimum) | °C | 140 |
| Cold Bending | °C | -20 |
| Longitudinal Tensile Resistance (Minimum) | N/5cm | 1500 |
| Transverse Tensile Resistance (Minimum) | N/5cm | 1200 |
| Upper Coating | | Polyethylene |
| Lower Coating | | Polyethylene |